St. Alphonsus Church
In 2018, St. Alphonsus Catholic Church celebrates its 125th anniversary of the church building in Callander.
St. Alphonsus Church is named after one of the greatest missionaries of the eighteenth century, St. Alphonsus Liguori, who was born in 1696 near Naples, Italy. He was the leader of a Catholic reformist movement.
Mass was first celebrated in Callander in 1886, at the home of Mr. Joseph Hicks, as well as in the boarding house of the J.R. Booth mill at Wasi Falls, by Father Eugene Bloem of North Bay, now remembered by Bloem Street there. In 1890, fundraising for a new church started and the building was consecrated 10 December 1893.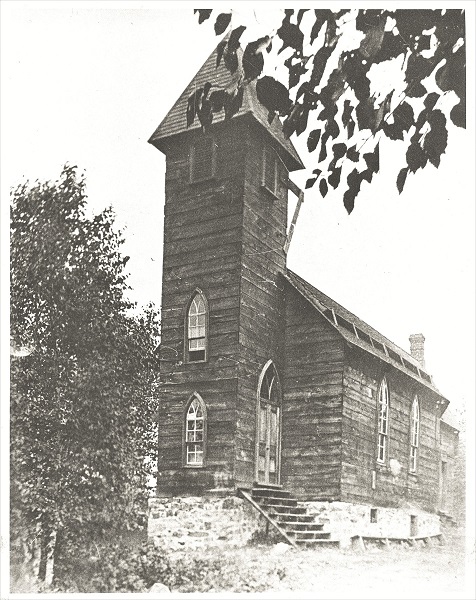 Father Bloem was killed in a train accident in 1896 and was replaced by Father David Scollard, remembered by Scollard Hall in North Bay. In 1901, it was noted that Bishop O'Connor and Father Scollard could drive to Callander by horse and buggy for the first time, indicating the Old Callander Road, the extension of Worthington Street in North Bay was sufficiently good for a buggy, not just horseback riders.
On 21 March 1913, Good Friday, a hurricane came up the Mississippi Valley and caused major damage in Ontario. Barns were down and roofs were lost across the whole Nipissing area. In Callander, the wind demolished St. Alphonsus Church, but rebuilding started immediately and it was open by Christmas Eve that year, although final construction was not finished until 1914. The world flu pandemic of 1918-1919 was also felt in Callander – Father Lahti died of the flu in November 1918, after being here only eight months.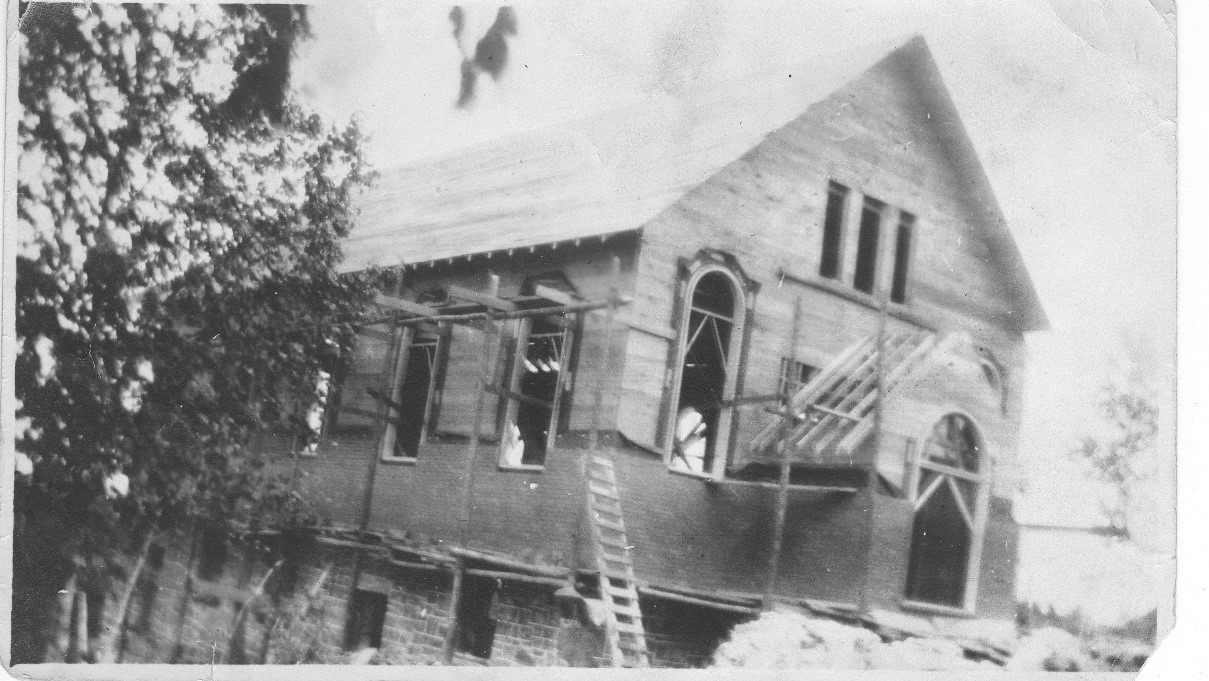 Services were held in English and in French. The mortgage was paid off in 1939, although it was not reduced during the Depression years. The priest at the time felt it was far more important to use the money collected for the needy than to pay down the mortgage. The vestry and basement were added in 1956, and much of the interior of the church was updated. In 1965, there were further changes as a result of the liturgical updates from the second Vatican council.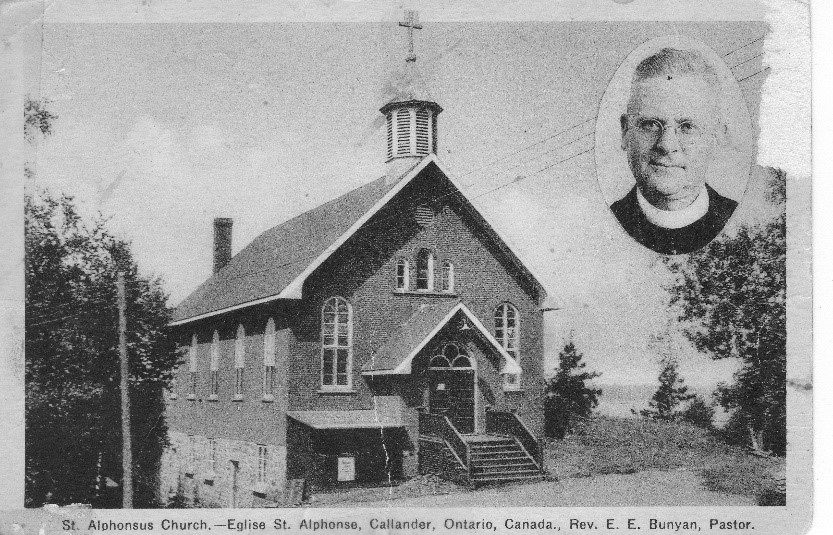 In 1973, St. Alphonsus Church became a 'mission' parish again, with ministers from North Bay, until Father William Fortune was installed as pastor in 1974. The sanctuary was wall-papered, with him doing much of the work himself. The church bell was removed from the belfry and the roof modified, because of safety concerns. In 1985, a new bell tower was constructed and the original bell was re-installed.
In 2010, as part of the re-alignment of the churches in the Diocese of Sault Ste. Marie, Bishop Plouffe announced that St. Alphonsus would be linked with Holy Name Church in North Bay. At present, they are sharing a priest.
Priests of St. Alphonsus Liguori:
Fr. Eugene Bloem 1886 – 1896, assistants Fr. J. Nolan, Fr. A.F. Kelly
Fr. David Scollard 1896 – 1905, assistants Fr. C.J. Phelan, Fr. John J. O'Brien
Fr. O. Dufresne, 1905 – 1908
Fr. L.P. Theriault, Fr. P.J. Monahan,1909 – 1911
Fr. C.C. Fawcett, 1911 – 1914
Fr. MacMillan, 1914 – 1918
Fr. Lahti, 1918 (for eight months)
Fr. Batterton 1918 – 1919 ( nine months)
Fr. Williams, 1919 – 1921
Fr. Barron, 1921
Fr. Marchand, 1921 – 1924
Fr. Emmet Bunyon, 1924 – 1939, 1944 – 1948
Fr. Owen Kennedy, 1939 – 1944
Fr. Walter Wells, 1948 – 1951
Fr. Leonard Murphy, 1951 – 1956
Fr. Keith McKee, 1956 – 1967
Fr. Raymond VanBerkel 1965 ( temporary - during Fr. McKee's one year sabbatical )
Fr. Ralph Sturgeon, 1967 – 1973
Fr. Francis Lawless, 1973 – 1974
Fr. Bill Fortune, 1974 – 1981
Fr. Stan MacDonell. 1981 – 1984
Fr. John Balfe, 1984 – 1986
Fr. Charles Mathieu, 1986 – 1987
Fr. James Cashubec, 1987 – 1989
Fr. Greg Humbert, 1989 – 1996
Fr. Joe Scollard, 1996 – 1997
Fr. Ken Gauthier, 1997 – 2002
Fr. Trevor Scarfone, 2002 – 2005
Fr. Jim McKay (2005-2006)
Fr. Ken Gauthier 2006-2012
Fr. Eric Pannike 2012-2013
Fr. Trevor Scarfone 2013-2018
Fr. Daniele Muscolino 2018 to present