Alex Dufresne Gallery
Opening July 24
"Journeys to a Conversation With Nature" - featuring Carole Davidson and Sarah Carlin-Ball
For more show information, please click here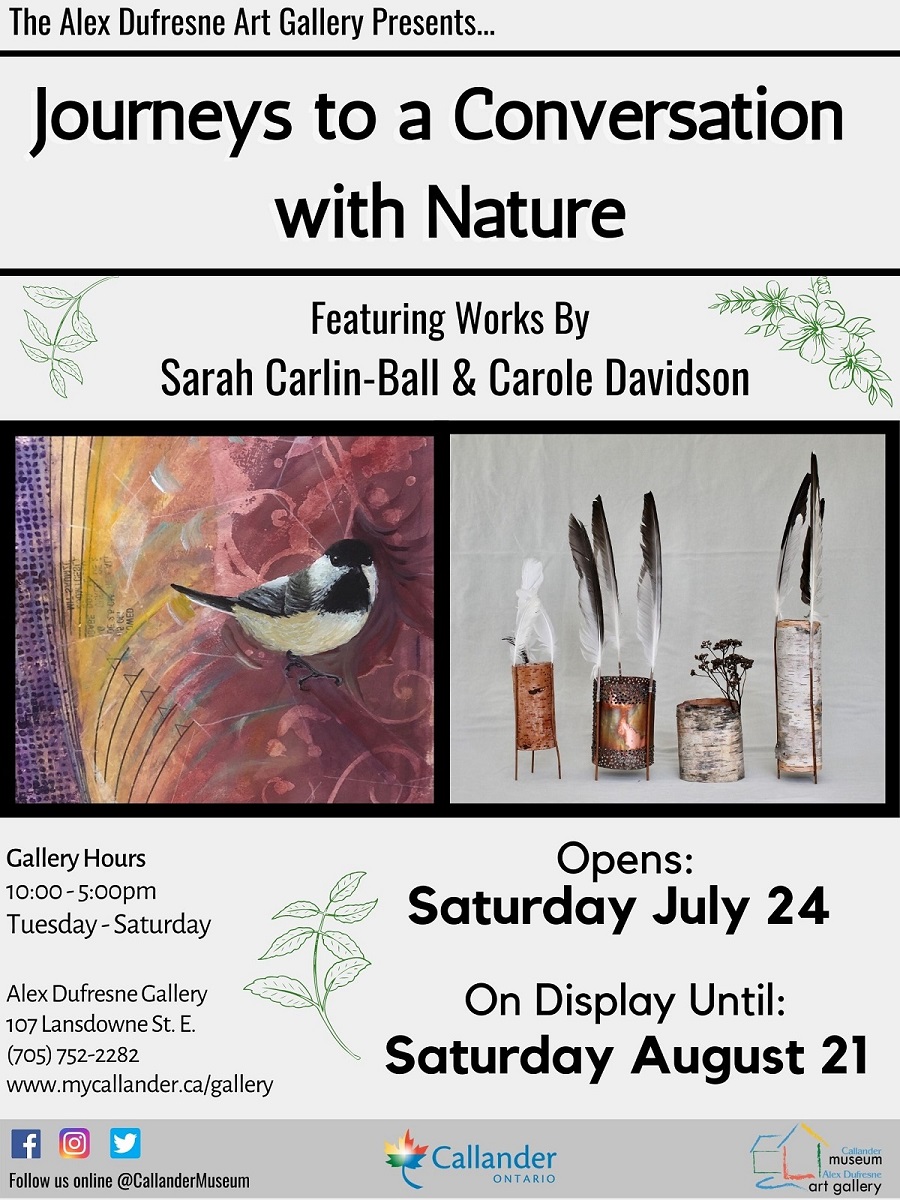 UPDATE July 9, 2021
Following today's announcement by the Government of Ontario, the province will be moving into Stage 3 on Friday July 16. This means that museums and art galleries will be able to reopen on that date with a 50% limited occupancy based on 2 meters of social distancing, we will announce the new capacity restrictions closer to that date. Our reopening schedule is as follows:
The Museum gift shop is currently open with a 4 person maximum occupancy, we recommend you book an appointment time slot (see how below)
The Museum will reopen on Friday July 16
The Art Gallery will reopen with a new art show "Journeys to a Conversation With Nature" (Carole Davidson & Sarah Carlin-Ball) on Saturday July 24

Please visit the website below to book your appointment slot, you will need to provide your mobile number number, name and email in order to confirm your appointment. You can also call us at 705-752-2282 or email us at museum@callander.ca to request a time. We look forward to seeing everyone again!
Appointment booking --> https://callander-museum-alex-dufresne-gallery.square.site/
---
The Alex Dufresne Gallery is partnered with the Callander Bay Heritage Museum, where it houses several exhibitions each year supporting the artistic talents of local and area artists. It is named after Alex Dufresne, a well-known barber and collector of fine antiques and artifacts who was instrumental in opening the museum in 1981.
Featured exhibitions run include almost all kinds of work – traditional oil, watercolour, and acrylic painting; pen and ink, charcoal, graphite, pencil; sculpture; photography; experimental and found-object arrangements; and artisan crafts such as pottery, quilts, jewelry, woodwork, glass work, stained glass – the list is endless!
We welcome you to visit our modern and spacious gallery, situated close to downtown Callander and the shores of Callander Bay!