Art Exhibits
Art Exhibits
Currently on Display
"Cut & Paste" - Jürgen Mohr
The Alex Dufresne Gallery is pleased to display "Cut & Paste", an exhibition by artist Jürgen Mohr. The show will open on Saturday June 3rd and remain on display until July 4th and the gallery is open Tuesday to Saturday from 10:00 - 5:00pm.
From the artist statement:
"Non objective compositions incorporate many of the essential elements and principles of design in the production of art. In this exhibition of about 30 abstract works, the elements and principles of moder art making are explored.
Every piece of paper has been carefully glued to the panel or canvas with attention to the distinct relationship between them.
My purpose is to create harmonious compositions with flat patterns of colour and texture exploring principles of balance and harmony. The search includes spontaneous line and colour and an attempt to balance light tones with dark tones, supported by notes of colour accents and mark making. A sense of balance is hopefully achieved as elements are orchestrated on the surface of the picture plane with no attempts at 3-dimensional effects. At times, grids of vertical and horizontal lines provide structural support for mized motifs as the composition develops. Maintaining a rhythmic flow of line, shape and colour determines the spontaneous progress and completion of the canvas.
My concern is with aesthetic challenges and not imitation of natural forms. Occasionally suggestions of natural motifs appear, including trees and flowers, bones and stones, but these disappear as the work is simplified. Most of these pieces were inspired by urges of the imagination and not from outside experience.
As I experiment with textured papers, including some homemade, the richness of mixed media, coloured accents and automatic gestures of graphite bring the surface of the canvas to life. Symbols figure largely throughout this collection; they not only add interest but it is hoped that the viewer will appreciate the metaphorical meanings and emotional depth associated with each work on display."
"Cut & Paste" opens Saturday at the Alex Dufresne Gallery at 107 Lansdowne St. E. in Callander. The reception will run from 2:00 – 4:00pm and the artist will be present. The show will remain on display until July 4th and the gallery will be open Tuesday to Saturday from 10:00 – 5:00pm.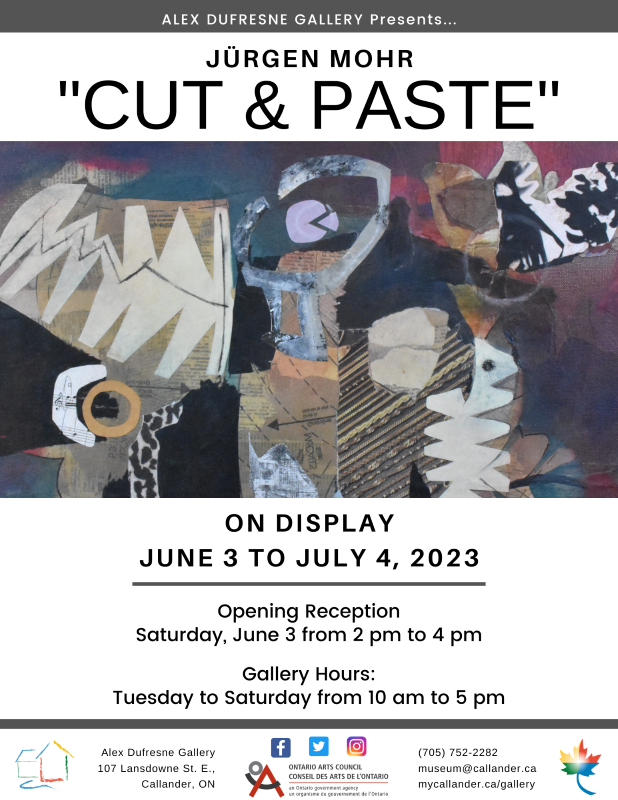 Future Exhibits
"TBD" - Rick Wade Cunnington
July 8th - August 5th, 2023
Opening Reception: July 8th, 2023 from 2:00 - 4:00pm
"Recollections" - Janet Bourgeau
August 12th - September 9th, 2023
Opening Reception: August 12th, 2023 from 2:00 - 4:00pm
"Connection and Response" - Bruce Cull
September 16th - November 4th, 2023
Opening Reception: September 16th, 2023 from 2:00 - 4:00pm
"Petit Noel" - Multiple Artists
November 18th - December 23rd, 2023
Opening Reception: November 18th, 2023 from 2:00 - 4:00pm
Past Exhibits